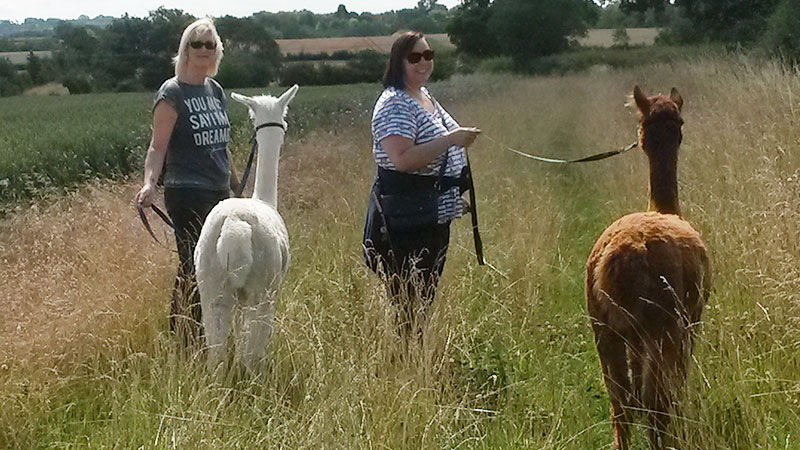 Alpaca Trekking
Walks can now be booked on the following daysTuesday and Saturday mornings at 10am
To ensure Covid safety, you will be asked to confirm freedom from illness, fever, cough or loss of smell and/or taste on arrival and asked to use hand sanitiser. Soap and water handwashing facilities are available on return from the walk. Whilst leads will be washed between customers, the walks take place outside, and distance between walks can easily be maintained, all of which will minimise risk of transmission, you are free to use gloves and a mask as you feel necessary.
As we have used Camelidynamics principles for halter and lead training, our animals are trusting and willing trail blazers, vying to be at the front of the queue when it comes to choosing who is going out today
.

Our f
amily and friends enjoy a different sort of walk!
We would like
to offer this exciting and unusual opportunity to you. We offer week day and weekend guided walks subject to the weather and availability. We also do Trekking Gift Vouchers for the person who has or has done everything. Email to order and book when you are ready. Vouchers are valid for 12 months after purchase.
Cost
1 person 1 alpaca. £28.50
2 people 1 alpaca £40
Add a picnic booking for just £5 pp

Please read our Terms and Conditions here before booking (note: price is out of date on Ts & Cs)



Walk Terms and Conditions