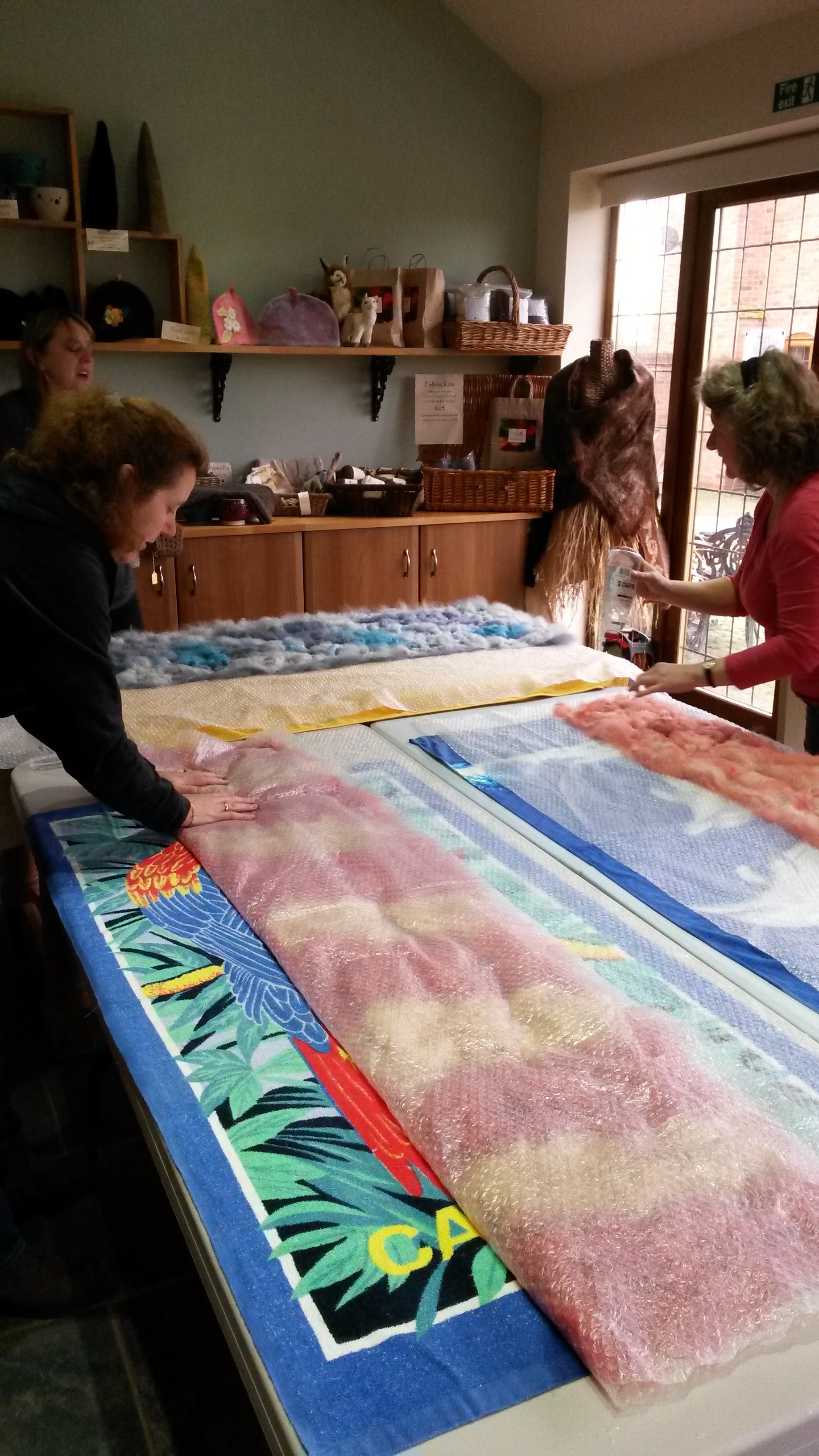 23 Feb 2016
Course Dates
All courses start at 10am til 4pm or when our projects are complete.

Create your own group and arrange a date to suit you. The perfect antedote to Covid and winter weather!

Introduction to Felting
27th April 2022
Alpaca fleece is wonderful for felting projects as it is so soft with less of the "tickle factor" of sheep's wool and as the fibres are hollow it gives an amazingly warm and light finish. Felt is the oldest form of fabric known to mankind and consists of layers of fibre that have been agitated and compressed until the fibres lock together forming a mat. This most versatile of processes shows you how to create flat felt such as a scarf using wet felting techniques. Then after a home cooked lunch, if you are staying for the full day, the opportunity to try your hand at needle felting a picture panel. Having learned the basics you can easily practise your skills at home with fibre and kits available to buy on the day.
And if your interest is piqued, we offer more advanced courses moving on to making 3d wet felted items such as hats and slippers.
Full day £85


Introduction to Fibre, Felting and Spinning
New date to be announced, please call to register your interest.
If you have fibre producing animals, not just alpacas, (but they're the best...we are slightly biased!!) this workshop will introduce you to all the stages from taking a raw fleece from the animal, through sorting and washing, to selecting and preparing for spinning and felting. We will introduce the techniques of spindle spinning to get used to handling the fibre before moving onto using a spinning wheel. And wet felting, enabling you to learn how to make this oldest of textiles and complete a project in a day.
After a home cooked lunch (all diets catered for with notice) the afternoon is spent working with the fibre in any way you wish to practise your new found skills.
This is a must if you have just one or a few fleeces that it would be impractical to send off to be processed or you love the idea of doing it all yourself.
Full day £85

Spinning for Beginners
Please call to regiter your interest
Fascinated by the the process of turning fibre into yarn? Join us for a day learning - you will be introduced to processing alpaca fibre at home ready to learn how to spin on a drop spindle and on a wheel.
Taught by Marilyn Wright (my sister!) who has written articles for international spinning magazines and taught in the USA as well as many local classes. She will show you all the tips and tricks to make your foray into this wonderful world a smooth one.
Refreshments, lunch and all materials supplied
Full day £85

Call to register interest in our next workshop or gather a group of friends and family and create your own event.
Great for hen parties, team building, de-stressing, digital de-toxing.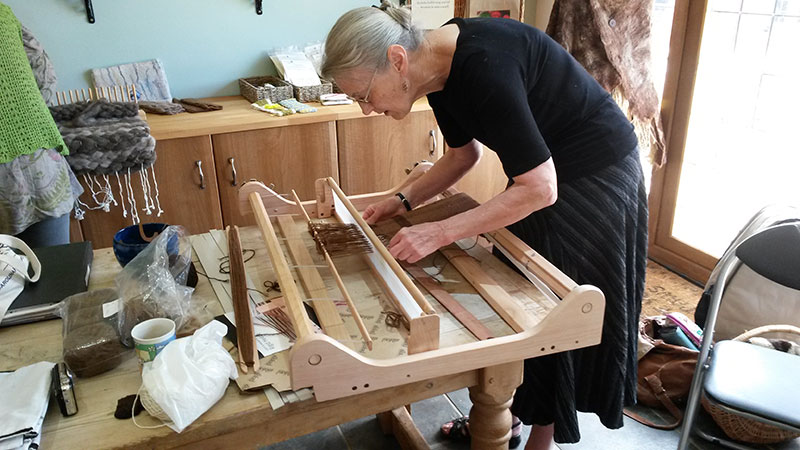 Spinning and Felting Workshops
Improver Spinning Workshop
Brush up your skills and problem solve with an expert teacher Marilyn Wright (my sister) who has spun and taught for many years including in the USA.
If you have a wheel you are struggling along, bring it along and let Marilyn help set it up for you.

Spinning Novelty Yarns
Having mastered the basic spinning technique have a go at creating novelty yarns to make your knitting and crochet more fun.

Spinners Trouble Shooting Day
Got the basics or thought you had? Trouble with setting up and adjusting your wheel? Whatever the problem we can help you solve it. Bring your own wheel if you wish.

Picture making using wet and needle felting techniques
Combine the two techniques to create imaginative and decorative pictures, wall hangings or panels that can be used for cushions or other applications.

Felted Hats and Slippers
Learn the technique of creating 3d seamless wet felt in this full day workshop to create your own unique slippers and hats to custom fit. Be prepared to get your shoes and socks off the do the final fitting on your own feet! And to get a wet head sizing your new hat!!

Spinning for Colour
How to blend and ply fibres and colours for interesting effects in your finished knitting or crochet.

All tuition, course notes, refreshments, lunch and materials included.
Full day £85 per person Half day £45